Last updated: July 3, 2000
Lexus sent me an invitation to attend (and participate in) a comparison test drive on a circuit set up in a big parking lot. The comparison would be between the new IS300 (called an Altezza elsewhere in the world), a BMW 328i (with automatic transmission, since that's all that will be initially offered on the IS300), and an Audi A4 Quattro. We would get to drive each of the cars over and over for a couple of hours to see which we liked best. Fun fun fun!

A new Lexus IS 300
The event started with a full spread breakfast in a fancy tent like structure. I'd guess there were about 100 people at the event. Also inside was the new car (of course), consoles connected to the Internet, and some video games to enjoy.

People look all over a screaming yellow IS300 during breakfast

People enjoy a quick video game before the real fun begins
The event was repeated 3 times both Saturday and Sunday though, so a lot of people came through, and the cars definitely took a real thrashing.
Outside, 5 new IS300's await to be driven
The competition awaits, too
After a presentation during breakfast by an 'independent' consulting firm gave their opinions about the three cars, we went outside to the two tracks. After a brief use by the public on one of the tracks, it was then used by professional drivers with us rank amateurs as passengers to see how the IS300 could be driven. Amazing. They drifted smoothly around every turn, accelerating hard in between.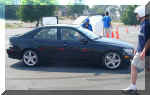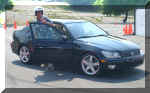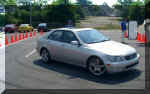 (Click pictures to enlarge)

The public take turns as
passengers with a pro driver
(Waiting for a drive, all one could smell were brakes and tires - ahhhhhh)
The public test drive circuit consisted of straights, slalom, tight curves, bumps, sand on a curve to test the anti-lock brakes, and an evasive lane change maneuver (with red/green lights over both lanes to indicate which one the driver should take at the last moment). Driving the course caused most drivers to squeal the tires a LOT.
Quick impressions of the cars...
IS300 - 'Nintendo' interior (not quite my style, but thats just my opinion), the bucket seats with nice grippy suede parts felt a bit small to me. Tons of front seat fore/aft travel makes it no problem for me to fit (I'm 6'3"), but the back seat occupants would not want to stay there for a long drive. Feels like a VERY LIGHT car to drive. Flingable, tossable, boy racer, whatever you want to call it. Brake feel is 'progressive' but the stopping power is world class. Acceleration is good - although not the same low end grunt or overall power as my GS400 (no surprise).
BMW 328i - despite what Lexus and the 'consulting firm' there said, I thought it held up well against the IS. I don't think it had the sport package there either, so it wasn't quite fair, although having said that, the BMW similarly equipped will probably be $5K or more than the IS. The steering, braking and great engine sound/response still make a 'magical' combination. LOVED the seat 'fit'. Still a great car. And now the engine is being upgraded to 3.0 liters, the car will be better still.
Audi A4 Quattro - not even in the ball park. Reasonably peppy once you get the RPM's up (all those damn valves are probably slowing it down), but the handling was pure slop. Plough, understeer, oversteer. Despite the very classy interior, the seats were like ROCKS. No thanks.
Overall - I think the Bimmer will appeal to 30-40 year olds who want a great performing car, and the IS will appeal to the 20-30[-40?] year olds who have some stock options and want it over a tricked out Civic. The A4 is showing its age, and maybe it can be justified in the snow belt with the quattro, but other than that, it felt like the up market Passat that it is. Not bad, nice looking in and out, but not a performer.
Some other pictures from the event:

(Click to enlarge)

(Click to enlarge)
The current (2000) Lexus
line-up were there to look at